Graphical Data Acquisition and Control
for Your Micro and Imagination!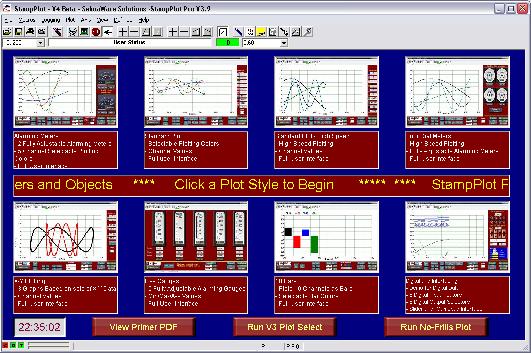 Release 9.2 (Version 4 Beta) is available!

June 2011

Full version FREE for Home/Educational Use
Upcoming License Changes: Due to a pending distribution agreement, this package will no longer
be free for use starting sometime in 2012 and will be a higher price. Multiple improvements and new documentation are planned. Current licenses will be honored - get yours now at the discounted price of $19.00 USD. An older version will be available to support educational material on the market currently.
New Meters, Gauges and Image Button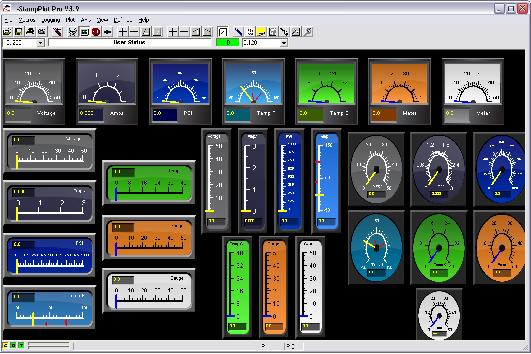 NOTE!
If you are having issues with Prolific USB-Serial Communication
on 64-bit Vista, there is a know bug with the Prolific Driver
and the MSComm.ocx. Please contact Prolific to urge them to
correct their drivers or use an FTDI based one.
---
StampPlot is an application for plotting, indication, logging, and control of serial data typically from a microcontroller,
though other sources may be used. Fully configurable from the controller or through PC based macro files.
While the BASIC Stamp (R) from Parallax is our favorite, most any controller that can communicate to a PC's serial
port may be used. Controller's that use USB and Virtual Serial Port Drivers may also be used.
StampPlot is extremely versatile:
Eight ready-to-run configurations for monitoring and control.

Plots up to 10 comma-separated analog values.

Plots over 8 channels of digital data.

Save plots files and JPG images.

Template data into other documents.

Linear or Logarithmic scales and numerous math operations.

Instructions for drawing, playing WAV files, and placing graphics images.

Plot Objects allow you to create graphical user interfaces (GUI) for monitoring or interactive control:
Alarming meters, gauges, Text boxes, sliders, image boxes, image buttons, progress bars, list boxes,
additional plotting areas and more.

Configurations may come from the controller or PC based text file (StampPlot Macro).

Perform over-the-Internet acquisition and control with the included Serial-TCP gateway software (host PC required).

Free StampPlot Pro use for home and educational users, though licenses to help support continued development are ALWAYS welcome!

Lost cost licenses ($25) for others users or those wishing to support the product.

Compatible with all StampPlot Lite features.