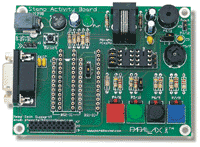 This example illustrates interactive control of the Basic Stamp Activity Board.
The buttons may be monitored, or controlled from StampPlot (Output checked).
The Potentiometer value is plotted and displayed in the gauge, and a set point for the gauge may be set.
The frequency of the speaker and duration of tone may be set.
The code is organized and the routines for the pushbuttons may be easily changed. The buttons may be controlled locally or remotely via StampPlot.
P8 (Blue) sounds speaker at set frequency and duration.
P9 (Black) resets the plot.
P10 (Green) sounds an alarm WAV file on StampPlot.
P11 (Red) Blinks the P8 LED.
Files:
This example may easily be monitored and controlled over the Internet using the SelmaWare Serial-TCP Gateway program though the timeout values of the SERIN instructions may need to be increased.